Published in The Couch Potato – A weekly column of casual kopi chat over ideas on design, tech, education and all things under the sun. To help the average Potato become a smarter spud.
---
Most companies practise Corporate Social Responsibility as a way to give back to the community. In the past, some would even use it as their 'get out of jail free card' just to portray a good brand image. Volunteering once a year? Done and dusted.
Thankfully, businesses are moving away from focusing solely on financial gains towards becoming more interconnected with the communities around them. Aside from shareholder interests, they are paying more attention to the needs of their customers, partners and even the community.
CSR has expanded into consistent efforts to engage with NGOs and the underprivileged, to cultivate a sense of social responsibility into employees in the long run. Yet, even so, social impact usually comes as a secondary goal after the business starts generating profits. It is a separate program from their primary business altogether. For instance, F5 Networks offers their employees paid time off for volunteering and provides opportunities for them to participate in localized philanthropic campaigns such as the Global Good Ambassador program. Such social initiatives can certainly create significant positive impact, but is there a way to put social impact at the forefront of our businesses — where the social initiative IS the business?
A new generation of social entrepreneurs are starting from the ground up to create businesses with social impact as their primary goal. These entrepreneurs are bright, fervent and passionate in wanting to make a difference, and their work reflects their vision of a positive change in the world.
According to the Stanford Social Innovation Review — 'the social entrepreneur aims for value in the form of large-scale, transformational benefit that accrues either to a significant segment of society or to society at large'.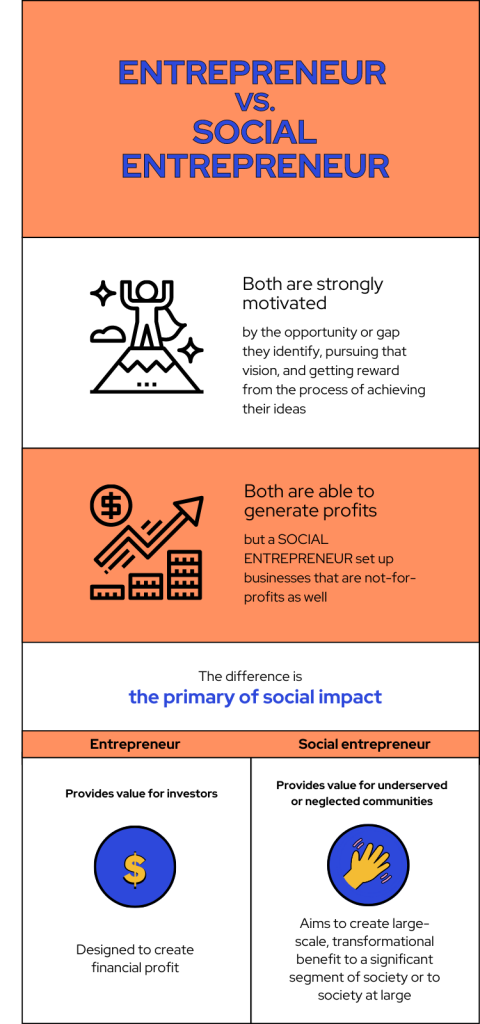 The distinguishing factor between a typical entrepreneur and a social entrepreneur is the primacy of social impact. Instead of implementing social initiatives as occasional one-off efforts to fill in the gaps, the latter strives to create social impact by effecting a broad, systemic change in society. They focus on deep-seated issues and hope to change people's perception or remove stigma on certain topics. But that does not mean that they are not profit-making. They can definitely generate profits but monetary gains are not their main goal.
Let's take a closer look at these businesses to see how you can put social impact at the forefront of your business strategy.
1. Make social impact your core mission
Treatsure, a local startup with the mission to 'treat food as treasure', aims to tackle the long existing problem of food waste. With their core mission in mind, every single one of their offering centers around reallocating excess food from the hands of those who no longer need it to those who would treasure it. As buffets are one of the biggest culprits in creating food waste, Treatsure's app offers 'buffet-in-a-box', where consumers can purchase a box at a fixed price to, as Singaporeans like to call it, 'dabao' food from buffets near the time they end. Food that would have been thrown can now be enjoyed by others.
Even as Covid hits and their main offering suffers due to restrictions on buffets, they were able to ramp up another offering that helps to tackle food waste involving distributors and suppliers in the food supply chain. Their service, surplus grocery delivery for expiring food, has seen a spike in demand as more people are staying home and buying food online. Despite the challenges of covid, Treatsure remains steadfast in its goal to work towards a zero-waste lifestyle, never deviating from their main purpose.
2. Putting humans at the core of your processes
Fashionable clothing often excludes those with difficulties in reduced dexterity such as the aging population.
Werable (part of our Potato family!) is a fashion company that challenges conventional fashion design through adaptive clothing. They believe in taking action, so that everyone can age with comfort, style and dignity. Their recent project involves working with the aged and their caregivers to design solutions for those who have difficulties in mobility – for instance, stroke patients who are unable to lift up their arms.
Being able to wear what we want can bring us happiness and confidence. Their business ethos of inclusivity begins with asking, why shouldn't everyone get the option of shaping the way they age?
While they design solutions that are comfortable and easy to wear, they also make sure that style is never compromised. They do so by designing with humans at the core of their processes, conducting Interviews and usability tests to ensure that their design is not based on assumption, but on lived experiences.
3. Innovating in new technology to solve old issues
Excess milk and other dairy products have always been a huge headache for agricultural farmers. On the other hand, the issue of non environmentally-friendly materials is hardly getting better due to the lack of viable alternatives. How can we kill two birds with one stone? Enter Mi Terro.
Startup Mi Terro is using biotechnology to re-engineer food waste into sustainable fibers that make up biodegradable products. Or simply put, it is turning excess milk into high quality products such as clothes, food packaging and bed appliances.
While there were already existing solutions, Mi Terro went one step further and came up with its own way after devoting large amounts of resources in research. The latest version of their technology can directly turn liquid milk into fibre without extraction, saving 60% more water than usual.
Who knows, this technology might even go on to replace traditional materials and become the new standards for use in fashion and other areas.
Social entrepreneurs have been around for a long time, but the term itself is getting more popular these days as more millennials are stepping up and speaking out on social issues that they care about. Not only are they bringing more awareness to social issues, they are demonstrating that businesses and social objectives do not have to exist as parallels, but can be aligned, having a symbiotic relationship.
Businesses that have not started with social impact in mind can still shift their gears to make social impact more of a business goal. Adidas has been taking steps to use recycled materials to manufacture their shoes and the results have been stunning. Just in 2019, they managed to use recycled material to make 11 millions pairs of shoes. And they are not stopping there. Such brands working towards a sustainable future can be a good role model for other brands to learn from.
Louder voices, stronger convictions and putting your work where your mouth is, will be the way forward to creating sustained and impactful changes that we want to see in the world.
This article is written with the help of Claudia Poh, Founder of Werable. Werable is a design studio that engineers apparel for ease of wear. For more information on Werable, please click here.
---
If you like our content, please reach out to us at stories@potatoproductions.com. We're looking for content partners and we're excited to get more eyes on interesting articles!