Published in The Couch Potato – A weekly column of casual kopi chat over ideas on design, tech, education and all things under the sun. To help the average Potato become a smarter spud.
---
Covid struck us in 2019 and became a global pandemic before we could even scramble to grapple with it. All of a sudden, work from home became a default. Yes, over the whole period, it has become such a norm that it needs an abbreviation – WFH.
Major changes are happening in the workplace and the key to tide through it all is adaptability. Companies that can quickly adapt to new social distancing rules and covid measures are the fastest to get back on their feet and come out on top. And going digital has never been more important.
Changes in the workplace
1. Greater flexibility in work arrangement
9 to 5 is the typical office hours that we are most familiar with. Traditionally, working from home is an extremely rare occurrence most companies would not even consider in the first place, reserved for employees with emergency family matters. But with Covid, according to flex jobs, there are now 87% more employees working remotely.
Businesses who were previously fixed on working in the office have to adopt greater flexibility in their work arrangements. Employees need to be more comfortable in front of their cameras with their bedroom as a backdrop, having presentations and doing team check-ins across virtual platforms. Basic digital skills are no longer just a 'go to have', but a MUST even for digital hermits, so that work can function effectively using video conferencing tools like Zoom, Skype, Microsoft Teams and many more.
Employees who have gotten a taste of remote working may find it hard to transition back to working in office. Let's take a quick look at the stats: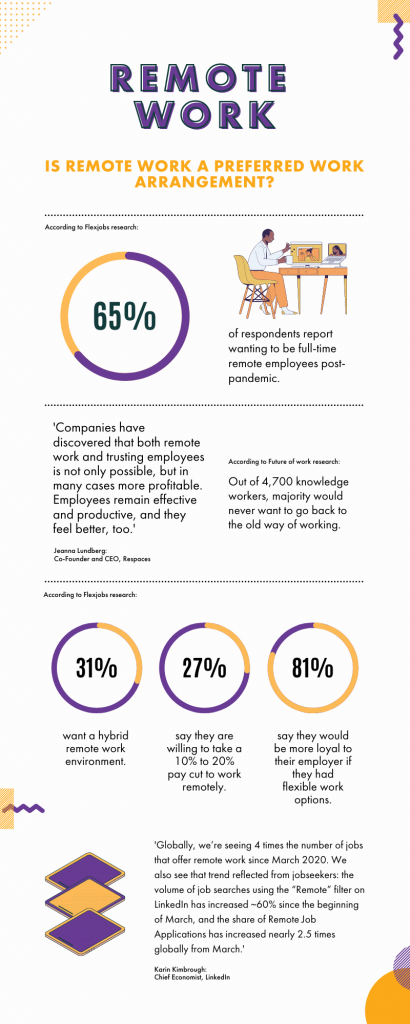 From the information above, you can see how comfortable workers are with remote work. From being unheard of to being a cornerstone for companies, working from home is such an important condition to retain workers even after the pandemic. This is a chance for companies to relook at their business operations and seek ways to manage tasks and employees' working arrangements to accommodate the new virtual working styles.
What businesses can do:
Companies should incorporate greater flexibility into working schedules and arrangements, and give support to employees who need help to tide through these changes. For example, Zillow gave employees 10 days of caregiver leave where parents can claim in order to take care of their children's needs. This could be exceptionally helpful during times when they are unable to send their young children to daycare centers, or when students are required to do home-based learning and are in need of supervision.
Establish a work-from-home fund for employees to create a more conducive working space. For example, Google allocated up to $1000 for employees to purchase work-from-home gear. We know, not all companies can afford to do the same as this giant behemoth. So here's a trick for transparency: Account for the decrease in office expenses and re-allocate them into this fund. Your employees will thank you.
2. Reskilling and upskilling to close occupational gaps
If you thought that your job was an 'iron rice bowl', it's time to think again.
Just take a look at a prime example: the pandemic has upended the previously booming travel industry, causing many pilots and cabin crew to look for alternative means of employment.
Covid has forced many businesses to cut their expenses and retrench employees, creating gaps in the company. Instead of rehiring to fill the gaps, which takes up a considerable amount of time and effort, it is more efficient to make sure that employees have a wide range of skills to meet the demands of the evolving working landscape. According to a research by Mckinsey, 46% of respondents found that their companies have increased redeployment of talent, which made redeployment the second best way to close skill gaps.
What businesses can do:
With a greater emphasis on digital skills, companies should put in the resources to send employees to courses. Potato Productions has a dedicated Learning Fund for employees to go for any courses that they wish to attend. The Singapore government is also actively supporting businesses in this aspect, where Singapore SMEs can tap on the Enhanced Training Support under Skillsfuture to send employees on subsidised reskilling courses.
For companies that might not have the bandwidth to provide financial resources, they can encourage active learning within the company. Of course, where else can you find a ready pool of knowledge? In Potato Productions, we organise events such as Geek Out where we get colleagues to teach an online class on a topic that they are good at. This builds a learning culture within the culture where even junior staffers get a chance to share their area of expertise. We also learn from external partners by inviting them to give a class on topics such as the recent Spuds Meet session on DNA Testing. While the topic might not be directly related to our jobs, you never know when this knowledge can serve as an inspiration for your next project.
3. Shift in organisational culture
Some employers have the mentality that getting people to work in the office means seeing them hard at work. Working at a place where they can't see means that employees are probably slacking off. This lack of trust that has been gnawing certain senior management has changed to accommodate the new working environment. Working from home calls for greater trust between employees, which may just make the organisational culture change for the better.
According to deloitte's research, they have identified 6 key cultural attributes that digitally mature companies should look out for in this age. The above picture shows organisational culture shifting from the left to right column.
Instead of the traditional top down approach where decision making is reserved for management leaders who dish out commands for their teams to meet their KPIs, businesses are moving into a more fluid work environment. Working processes are dynamic – always changing to tackle the different demands of our economy. Creativity and risk-taking are the core characteristics that fuels success, by repeatedly experimenting (and failing too). Team members are galvanised to work towards a greater purpose besides hitting their KPIs, giving them a sense of ownership towards the work they are producing.
What businesses can do:
Build a culture of trust by empowering every single employee. Companies can do so by giving employees more generous boundaries and freedom to try out new strategies, and being forgiving when they make mistakes.
Create a working environment with strong support systems. For example, Illumina has a Culture of Care Program (CoCP) that accompanies their overarching philosophy to care for the well being of employees. An employee who needed extra time off to deal with home demands approached her manager and created a flexible schedule that can accommodate her needs. When companies take a stance and reinforce their commitment to build a caring culture, it trickles down to their management style and the day to day interaction between colleagues as well.
Workplace transformation
Ingrained culture, old systems and entrenched habits might result in workplace rigidity. But it is hard for leaders to make that change if there isn't a strong motivation to spend the time and effort to restructure. It takes a pandemic as dire as this to trigger a transformation that has been much needed for a long time.
Support your employees and receive their support in return. That's the best way for companies to emerge victorious against this pandemic.
---
If you like our content, please reach out to us at stories@potatoproductions.com. We're looking for content partners and we're excited to get more eyes on interesting articles!